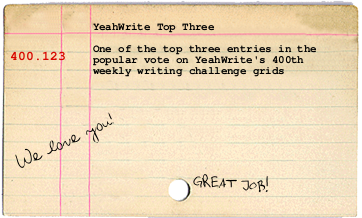 Marcy Dilworth is back with another great story for the YeahWrite weekly fiction/poetry grid. The one-word prompt this week is "moldy." More info about Marcy after the story!
---
Casserole With a Twist
Marie teetered into the kitchen on her chunky black old-lady heels, and handed the bonus-sized casserole dish to her oldest friend, my mother. Mom, less robust than she was at 70, or even 75, staggered under the weight and swung it around with a 'bang' on my granite counter. It felt like good luck that the weighty dish didn't shatter on impact.
"You are going to love this Chicken and Rice Casserole with a Twist," Marie said. She had badgered my mother into letting her provide the main dish for our Saturday gathering, even though Marie knew that these dinners were Mom's special gift to the family. It took Mom most of the week to plan, shop for and prepare these meals. No one mentioned that most of Mom's time was spent resting between steps. We were too busy denying to ourselves how much she'd slowed down over the last year.
Mom walked Marie over to the hall closet, where they hung up Marie's coat and one of her sweaters. About the sweater she still wore, Mom said, "Marie, that burgundy is just perfect on you." Marie said, "Janice, you must be so pleased that that skirt still fits after all these years." Marie never played tennis, but her backhand never failed.
Per repeated reminders, I had preheated the oven to 350 before Marie arrived. I unswaddled the casserole dish, unwinding yards of crinkling foil. A hint of a bitter odor hit my nose while I was a layer away from the dish; I assumed it was from the unwashed cutting board in the sink. I laid back the final layer of foil and gagged. The casserole expelled an earthy smell, rotten. It was moldy – no, it was a solid surface of taupe and puke-green mold. And this was my casserole dish, recognizable because it was a wedding gift and because of the chink broken out of the lip.
I tucked and snugged the foil back around the dish, trying to tamp down the odor. I had asked Mom to remind Marie to return my dish the next time she came over. I never imagined, six weeks later, that it would still house the chicken (no rice) casserole I'd brought to Marie when her family was in town. Had she frozen it, or even put it in the refrigerator?
As much as we worried about Mom's dwindling energy, we hadn't noticed Marie's mental decline. I glanced up, and examined Marie's shoes– both were black, but the heels and lacing didn't match. I'd already noticed the stained cardigan that looked like it had been buttoned by a distracted child. And the casserole that she claimed as her own – she probably saw it on her counter, and manufactured a memory that she had prepared us a nice meal.
Mom would kill me if I embarrassed Marie with what I had learned. Even though I resented that Marie had always been hard on Mom, I understood that they had loved each other for almost 70 years. Friendships aren't simple.
I picked up the Casserole with a Twist of Mold and took it to the garage. I said a little prayer that no living thing would take a nibble, since not even a rat could survive such putrefaction.
A Stouffer's lasagna waited faithfully in the freezer for this occasion. At the same time I mourned Marie's deterioration, I relied on it – she'd be just as likely to take credit for this pasta dish served in a foil pan as for the mold casserole in my beautiful dish.
Feeling like a hero, a benevolent wise woman, I served the dinner that Marie thought she had supplied. Everyone complimented her, as she would expect. No controversy, no confrontation, all peace on the dinner front.
And then I remembered – Marie drove to our house, in fact she drove all the time. No one on earth could be hurt by the food Marie served up, since you couldn't accidentally eat it, what with the acrid odor and the horror-show appearance. But how do you stop her from driving without confronting her with her condition, and with all the pain and argument that would ensue? If only I could put her car in the garage, and pull a safe alternative out of the freezer. But alas, the analogy can't stretch that far.
---
Marcy Dilworth has been writing forever, but only recently started inviting anyone to witness it.  She earned her English degree at the University of Virginia, and her sense of humor at the hands of four older siblings. She lives in her newly empty nest with her husband writing anything but what she expects.